Moletto Prosecco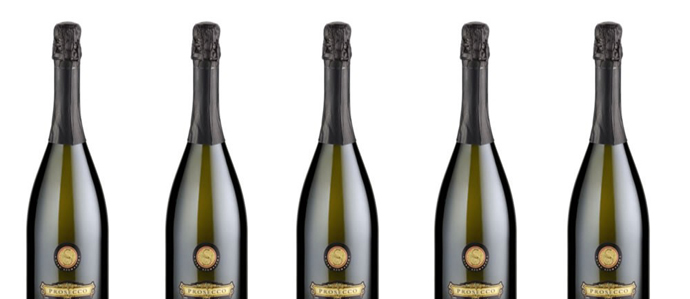 When it comes to choosing a wine to have with dinner, the usual suspects always come creeping out. Sure, yet another bottle of over-oaked Chardonnay will pass, depending on the crowd. A Cali cabernet is an easy go-to. But what if … stay with me here … you showed up with a bottle of prosecco?
Yes, prosecco. That sparkling wine from Italy with the cool bubbles and actually affordable price tag? It doesn't have the snooty legacy that, sadly, champagne often gets. It's not going to break the bank. But it's going to be different, and fun, and dance around on your tongue like a 21-year-old celebrating her "first time at a real bar."
I'm not ashamed to say I've done this before, and it wasn't even with a group of friends. It was me and my husband. Eating leftover salad and quickly grilled chicken after a long day in our respective offices. With a bottle of Moletto Prosecco hanging out on the coffee table between us.
Moletto hails from the Treviso region of Italy, one of the better areas for prosecco in the Veneto appellation, where prosecco generally comes from. The draw here is the off-dry approach, meaning that you aren't going to get an overly sweet, syrupy attempt at wine.
While I'm no chardonnay fan, the toasty notes that come across in sparkling wines are something I can get behind. The acidity and punch of the bubbles elevates the flavor from overbearing to a Goldylocks-style "just right." Moletto pairs that sharpness with a great touch of sweet, giving the drink an almost honey-on-toast feel. There's a touch of fruit like apple and pear, plus some more green, herbal notes to balance things out. It's an easy sipping drink that feels special.
While our salad dinner was pretty tame, it made a good match with this lightly bubbly brew. Also great would have been citrus-based seafood or slightly spicy sushi. The Moletto would also do wonderfully with desserts or fruit. Or it could be your dessert. We won't judge.
Fine Wine & Good Spirits stores in Pennsylvaia: $13.99.
---
Melissa Auman Greiner is a born and bred Philly girl with a soft spot for the city's growing food and wine scenes, leafy green squares and sultry summers. Just don't get her started on the inadequacy of SEPTA. With nearly 10 years of experience covering the city for a variety of newspapers, magazines and websites, it hasn't just been her pleasure to visit Philly's best bars and restaurants -- it's been her job. And with an advanced certification from the International Sommelier Guild under her belt, she brings her city savvy and wine know-how together to deliver Drink Philly readers the latest info on Philly vino.
---
Related Articles:
Recent Articles

Feedback
How are we doing? Tell us what you like or don't like and how we can improve. We would love to hear your thoughts!