Wine Hearts Chocolate
The Feeling is Mutual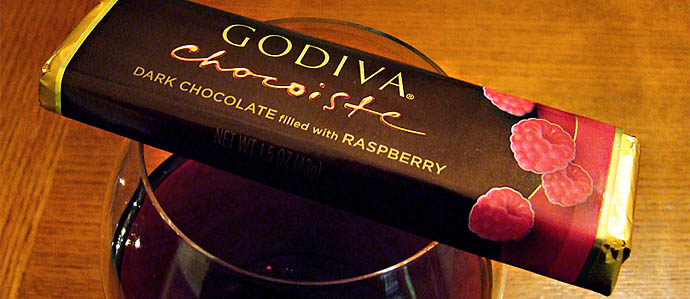 It's almost Valentine's Day, so start getting prepared for the love fest that will surely surround you soon. Your roommate will accidentally spend the rent money on a fancy dinner, your sister will go on endlessly about the roses the boyfriend of the month had sent over. But no matter your relationship status, there's one couple we can all love on: wine and chocolate.

They may seem like a predictable, but let's not jump the gun. Wine and chocolate don't have the perfect relationship. There are many times they don't get along. There are times when one tries to overpower the other. But, in the end, these kids make it work, and that should be respected.

So what's their secret?

1) They keep it juicy

As in fruit, of course. When it comes to a wine that's going to pair well with chocolate, anything too dry or acidic won't do. Those flavors simply won't be able to stand up to all the complexity of a good chocolate, and after the first bite, the wine will taste sharp or flat. Pick a wine that's full of rich fruit flavors; just as you'd add raspberry or cherry to your chocolate bar, you can add those flavors via your wine. Think pinot noir or Zinfandel.

2) They know the simple things count

When you are choosing a chocolate to enjoy along side your wine, don't go reaching for something full of milk, sugar, and other crazy flavors. Pick chocolate. Go as dark as you dare, but most tastebuds respond well to around 70-percent cacao.

3) They keep things spicy

Is the chocolate in question part of dinner? Chocolates in mole sauces, rich tomato purees, and other preparations are balanced by their buds from the spice rack, and in turn are much more approachable. You can then pick a wine that goes with the dish as a whole and not worry about just your sweet ingredient.

4) They know when to say when

Sometimes, your standard red wine just won't work with the chocolate at hand. When there's a rich triple-fudge torte on the menu, don't think the last of your big, tannic Cab will stand a chance. Instead, go for a dessert wine like late-harvest Zinfandel or ruby port. The super-sugary spirits will be able to hold their own against all the sweetness coming by way of your fork.

So whether you are enjoying a romantic nightcap with your own Valentine or drowning yourself in a glass while watching one chick flick too many, add some chocolate to the evening's activities. Their success may just rub off on you.
Photo via Flickr user ChristineLeiser
Recent Articles

Feedback
How are we doing? Tell us what you like or don't like and how we can improve. We would love to hear your thoughts!