Beyond Boozehound: Jason Wilson Holds Forth on a Career in Drinking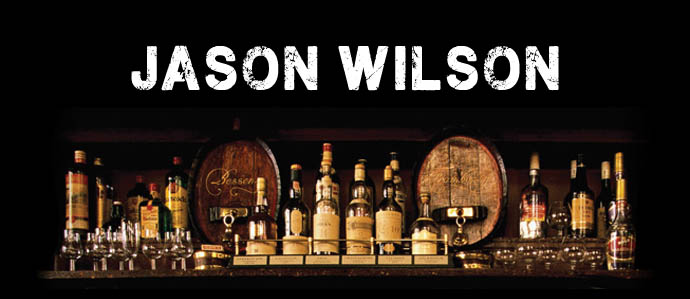 Not long ago, the world of alcoholic beverages was neatly stratified. Wine folks stuck to themselves, with noses high up in the air. Cocktail geeks had barely yet appeared. And beer guys got no respect.
But according to
Jason Wilson
, author of the engaging travelogue-slash-cocktail guide
Boozehound
, the barriers have fallen. "Now, you're not a wine person, you're not a brandy person, you're not a craft beer person," he explained to me at Philadelphia's
Farmers' Cabinet
over beers. "For the younger person, everything is in play. Someone might tick off all three in one night."
Wilson held up his glass of
Nuova Mattina
, a hard-to-find beer from Italy's Birrificio del Ducato, and gestured around the room, which had gotten significantly more crowded in the 45 minutes since we arrived. "Look at this place, for example. They do cocktails. They do wine – though I haven't really checked out the list. They do beer." He was speaking from close experience, having just transitioned to suds from his first drink, the
Two Folded Operation
– a mix of genever, Calvados, Bénédictine, oloroso sherry and Angostura bitters.
With an impressive body of writing on all three categories, it makes sense to listen carefully to Wilson's pronouncements. He currently handles spirits and cocktails for the
Washington Post
and trends in dining for the
Philadelphia Daily News
. Then there's his day job teaching writing at Drexel University, and his editorial duties at the
Smart Set
and the
Best American Travel Writing
series. Considering that he's also the father of two young sons, it's a wonder that he finds the time to drink.
"With so many jobs, I need a drink," he told me. "But you can see how crafty I've been, I've made it into my profession. Sorry kids... daddy has to go drinking."
It's a career that inspires envy, especially to those of us who shell out for a drink instead of getting paid to do so. Wilson had put together an showy portfolio as a travel writer, with occasional forays into spirits, before being asked to start his booze column for the
Post
in late 2006. The timing was fortuitous.
"At the time, we were still in that cosmo-appletini age.
Tales of the Cocktail
in New Orleans was still very small. There were just a few of us doing it," he explained. "Now everybody's a cocktail writer. But I had no specialized training, just a lot of practical experience."
This experience came in a variety of ways. Wilson's father was (and remains) a wine collector, so he started tasting serious Napa wines at the dinner table. There was a "1-800-Bartending" course. "The guy taught me how to make a Manhattan and a martini," he said. "It was non-credit, but definitely one of the better college courses I took." However, his hands-on experience living in Latin American and drinking loads of different types of rum proved much more instructive.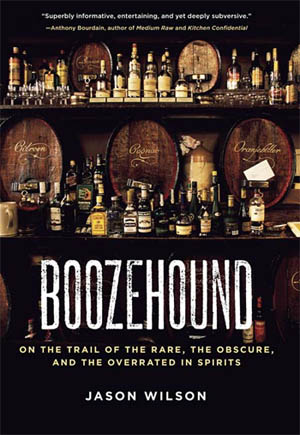 I knew from reading
Boozehound
that Wilson's favorite cocktail – if you forced him to pick – was the Manhattan. But I wanted to know a little more about his tastes. With beer, he was succinct. "Once it gets above seven percent alcohol, I lose interest. Beer's in an interesting place now... people are trying new styles, but there's push-back against the high-alcohol."
And wine? "My love is northern Italy. Piemonte, Alto Adige, the Veneto. But lately I've been digging the whites from northern Spain. And sherry," he continued. "In the last couple years, I've had a lot more interesting and exciting white wines than I've had reds."
As if to illustrate the punishing routine of the professional food and drinks writer, Wilson told me he was on his way to try a required restaurant beer after we finished up our third round. Before we settled the tab, I inquired about what had changed in the world of spirits since he finished writing Boozehound.
He answered with conviction. "Two years ago you woudn't have f**king had a place like this." Now people were standing two-deep at the cocktail bar behind us. "It's great. People have a preference. It's not a douchey preference. It's not a brand-driven preference. It's not a vodka preference." The cocktail menu in front of us was loaded with names that were once been considered "old-man" spirits: brandy, rye, grappa. "It's not just me anymore. It's kids in their twenties, wanting to drink this stuff."
Even if I wanted to debate Wilson on this point, I might not have been able to. The steadily rising din from young beer drinkers and apprentice boozehounds – out on the town and raring at the bit to experience the huge variety of drink options available – threatened to drown out our conversation.
Recent Articles

Feedback
How are we doing? Tell us what you like or don't like and how we can improve. We would love to hear your thoughts!