Guide: What To Do With A Great Bottle of Wine
Show it some love
Partaking in wine is usually a simple process: purchase, open, consume. That's the game when grabbing a $20-something bottle for dinner or a late night with friends, and most of us know how to do it well (perhaps a little too well).

But, consider an alternate scenario. What if what you hold in your hands isn't just a run-of-the-mill wine? What if the in-laws actually came through with an awesome gift this year? Or if the boss thanked you for a year of excellent work with something good? Like, I-Googled-it-and-I'm-pretty-sure-I-should-insure-this-bottle good?

Even if you didn't receive a Château d'Yquem, bottles at the $100-and-up mark should be approached with some finesse. These wines expect to be coddled, enhanced, and respected. Follow this guide to give them the attention they deserve, and they will reward you in return.

Storage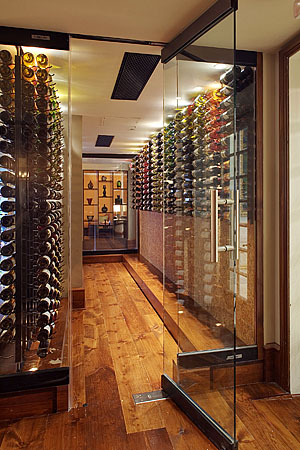 First things first. You probably don't want to blow something this special on your latest drive-thru run, so pick a specific occasion to save it for. In the mean time, keep your bottle safe. Next to the stovetop, on top of the refrigerator and all those other easy storage places are off limits. You need somewhere cool, dry and dark to avoid cork spoilage and oxidation, both of which will put your bottle on the fast track to vinegar. If you have a temperature-controlled wine fridge, use it, setting the temp between 50°-55° F. Those without can turn to their basement, as long as it isn't arctic. In a pinch, use an interior closet.

Pre-Prep

When the big day comes, let the wine have the spotlight by preparing it for the occasion. Check the temperature of the wine with one of the many bottle thermometers on the market these days. What should it be? If you are the proud owner of a big red like cabernet sauvignon or syrah, allow the bottle to slowly come to room temperature at about 65° F. Lighter reds like chiantis or pinot noirs should be a tad colder, at about 60° F. Whites should be chilled, but not to the point that they rival a can of Coke. Rich chardonnays should only be about 58° F, Champagnes a cool 55° F, and lighter, tarter wines like sauvignon blanc about 50° F.

Breathing

If you have a red, you'll also want to let the wine breathe before you drink it. To do this, simply uncork and allow it to sit on the table for about a half an hour. Sure, there are aerators and other fun trinkets available, but a simple rest is really all you need. If you want to get classy, you can allow the wine to rest inside a beautiful decanter, adding flair and a little eye candy.

Pouring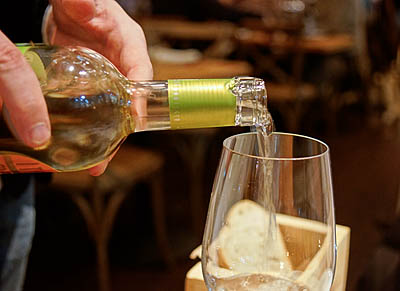 That leads us to pouring. When you move the wine from the bottle to the glass – or to the aforementioned decanter – you are performing a delicate dance. You wouldn't dump a bottle of beer vertically into your pint glass – you'd loose half the brew to the head. Same mentality applies here. If you pour too fast, you will loose or even alter the delicate notes of the wine, perhaps even "bruising" the fruit within. Instead, tilt your glass to a 45 degree angle, rest the bottle's neck on the rim of the glass, and slowly pour. [Not like this photo! – Ed.]

Glassware

The last thing to consider is that glass. Stemware companies have come up with a slew of shapes and sizes, each designed to highlight aromas and flavors of different wine types. If you are an avid wine drinker or want to splurge, go for it. But for the rest of us, the three classics – flute, white and red – will do. Red glasses have much wider bowls for swirling and a tapered top that consolidates the nose. White versions are much more streamlined to keep the temperature cool, but still have a slight taper to bring the flavor to your mouth. Flutes get even thinner, keeping the wine cool and maintaining carbonation.

Drink

The last step you don't need any advice for – simply enjoy. Yes, have some fun and see if you can smell and taste the various parts of the wine, but don't over think it. Wine, at its root, exists to be drunk. You can handle that.
Photos by Danya & Mark Henninger
Top: $3000 bottle of wine at R2L
Middle: Wine cellar at Tavern 17
Bottom: Wine service at Garces Trading Company
Tags:
Wine
Recent Articles

Feedback
How are we doing? Tell us what you like or don't like and how we can improve. We would love to hear your thoughts!