American Wines Beat French Wines in Bottle Shock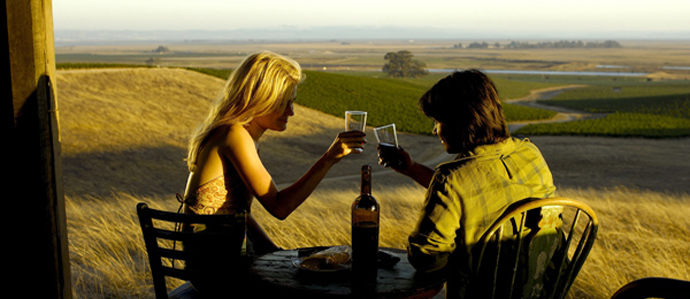 Sure, you are busting at the seams with invites to barbecues, parades, and neighborhood firework displays during which someone will end up with a third-degree burn. But if you want to fit in a little relaxation this Fourth of July weekend, how about some patriotic and alcoholic movie viewing?

Bottle Shock came out in 2008, but you may not have heard of it. It was small. It didn't get a lot of press. It was an underdog. Which we find pretty fitting, since the true story is depicts is all about the David vs. Goliath struggle, too.

In the movie, a British wine shop-owner living in Paris decides to drum up some business at his store by holding a blind wine tasting. Hoping to draw on the nationalistic views of his new neighbors while showcasing what he hears may be a new trend, he pits fine French wines against a series of then-unknown American bottles. But, of course, the plan goes awry, as taster after taster scores the "New World" wines higher than their fancy European counterparts.

And yes, this all really happened. Commonly referred to the "Judgment of Paris," the French tasters overwhelmingly chose California chardonnays and cabernet sauvignons over French varieties. There has been lots of chatter about the validity of many scenes in the movie, but at its core, the message is the same: it only took one almost-bankrupt British guy to introduce the world to the Napa Valley and cause the movement that we all take for granted today. Not only were the French amazed, but a Time reporter that happened to be there wrote about the contest, and suddenly Americans were clamoring to buy 1973 Chateau Montelena Chardonnay and 1973 Stags Leap Cabernet Sauvignon.

The moral? American rocks. Or, perhaps, that you should never underestimate the ability of the new guy. Either way, it's quite patriotic and a fitting way to enjoy some TV time this weekend. Pour a little red, pour a little white and... er... put them in some blue glasses. Enjoy!
---
Melissa Auman Greiner is a born and bred Philly girl with a soft spot for the city's growing food and wine scenes, leafy green squares and sultry summers. Just don't get her started on the inadequacy of SEPTA. With nearly 10 years of experience covering the city for a variety of newspapers, magazines and websites, it hasn't just been her pleasure to visit Philly's best bars and restaurants -- it's been her job. And with an advanced certification from the International Sommelier Guild under her belt, she brings her city savvy and wine know-how together to deliver Drink Philly readers the latest info on Philly vino.
---
Related Articles:
Recent Articles

Feedback
How are we doing? Tell us what you like or don't like and how we can improve. We would love to hear your thoughts!