Small Brewing Gets a Voice in Government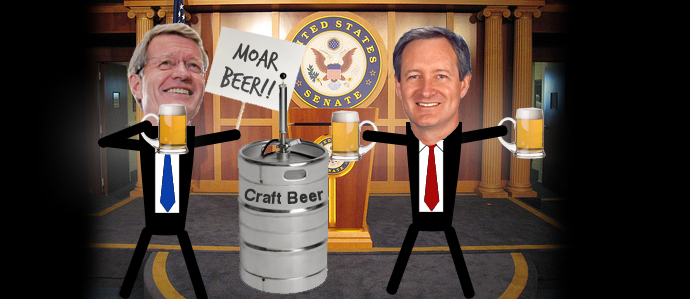 Yesterday, June 20th, the Brewers Association shared the news that the Senate Small Brewers Caucus has been established. The Caucus is to be led by Senators Max Baucus (D-Mont.) and Mike Crapo (R-Idaho), who are both known supporters of America's small and independent brewing industry.
The Senators have offered their support for small and independent brewers largely in part because of Craft Beer's effect on the economic growth of the country. At present, the craft beer market holds around 5% of total market share, yet accounts for a staggering 50% of all brewery jobs. In a nutshell, all these craft breweries have created over 100,000 well-paying part and full-time positions all over the country.
With the Caucus in place, small brewers will now have a voice to provide Senators with a better understanding of all aspects of small brewing.
Montana is especially in favor of the Caucus, where the brewing community generates and pays taxes on approximately $20 million in revenue each year.
"Small craft brewers are growing, creating jobs and contributing in small and big ways to the recovery of the American economy," said Charlie Papazian, president, Brewers Association. "The bipartisan establishment of the Senate Small Brewers Caucus reflects the collaborative, grassroots community spirit in which the nation's small brewers contribute to their local communities." (from the Brewer's Association website)
Let the "Baucus Caucus" alliteration jokes commence, and let's rejoice for small and independent brewers!
---
Related Articles:
Recent Articles

Feedback
How are we doing? Tell us what you like or don't like and how we can improve. We would love to hear your thoughts!