Sparkling Wine & Champagne Primer
New Years Necessities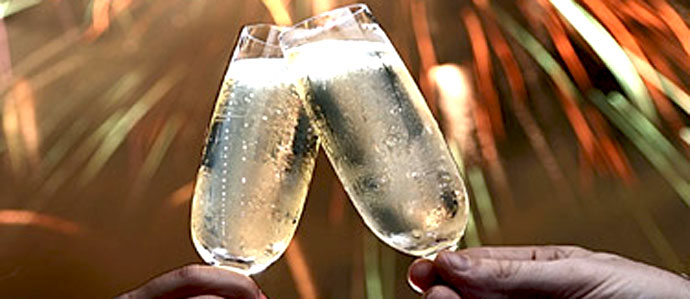 We've all gotten the message that sparkling wine is something special, and that it is made to be enjoyed on occasions that are equally grand. Perhaps that's because the process of making sparkling wine is pretty special in of itself. Take some flat wine (in both taste and lack of the notable bubbles), work a little magic and years later you have a beverage people will shell out paychecks for.
How do they do it? The most traditional, and usually expensive, method comes from the Champagne region of France, where their process is, appropriately enough, called the method Champagnoise. Starting most often with a blend of three grapes – chardonnay, pinot noir and pinot meunier -- there are two fermentations, each of which add their own distinctive features. In the first, a small amount of sugar is added to the bottle and carbon dioxide develops, giving the wine the classic fizz. In the second, the yeast that resulted from the previous reaction begins to break down and gives the wine that toast-like taste we all know and love. To remove the remaining sediment, the bottles are stores up-side-down on riddling racks, forcing the sludge into the neck. The neck is then frozen and the icy block of yeast popped from the bottle. A small amount of wine and sugar, called the dosage, is added to make up for the now empty space, and the champagne is corked.
Many wineries around the world use this process, but unless they are located in the Champagne region of France, they cannot legally call their resulting product champagne. Countless others create sparkling wine by other processes – transferring the wine to a new bottle in lieu of riddling or performing the entire second fermentation in a stainless steal tank instead of individual bottles – and with different grapes, all of which result in wines with different tastes and levels of fizziness. Oh, and cost.
Want to get in on the bubbly this New Year's Eve, but don't have the $250+ for a bottle of Dom? Try one of these affordable options, all available in Pennsylvania.
Around $10
Zardetto Prosecco Zeta $9.99
Prosecco is Italy's answer to sparkling wine. Still a touch sweet but much more refined that it's cousin Asti Spumante, expect brightness with a touch of citrus.
Around $25
Albet I Noya Cava Penedes NV $19.99
Spanish cava takes the method of the French powerhouses, but replaces the grapes with three more native to the country. Earthy and dry, it's a great affordable replacement.
Around $50
Ayala Brut Majeur NV $52.49
Want to spring for the "real" thing. It's technically two bucks over in PA (NJ and DE readers will get change from their Grant), but it's a great way to get a taste of good champagne for a decent price. Rich and toasty, look for apples and lemon in the nose.
Happy New Year!
12.27.10
---
About Melissa Auman Greiner:
A born and bred Philly girl with a soft spot for the city's growing food and wine scenes, leafy green squares and sultry summers. Just don't get her started on the inadequacy of SEPTA. With nearly 10 years of experience covering the city for a variety of newspapers, magazines and websites, it hasn't just been her pleasure to visit Philly's best bars and restaurants -- it's been her job. And with an advanced certification from the International Sommelier Guild under her belt, she brings her city savvy and wine know-how together to deliver Drink Philly readers the latest info on Philly vino. Twitter
---
Recent Articles

Feedback
How are we doing? Tell us what you like or don't like and how we can improve. We would love to hear your thoughts!