Wine Lover Gift Giving Guide
Holiday gift ideas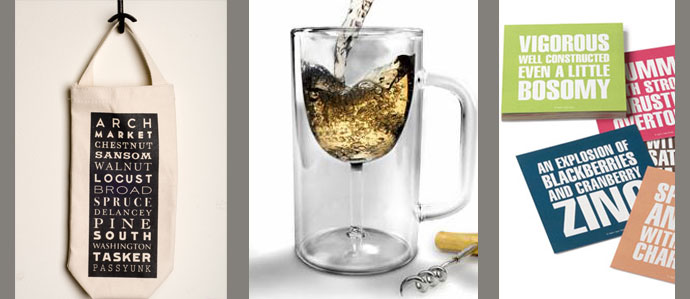 The holiday shopping season has ended, friends. Welcome to the holiday shopping panic. Just a few days until those gifts are due under the tree, crisply wrapped and cheerfully bowed. While I really don't know what to get your nephew or the mail man, I can point you in the right direction for the wine lover on your list. Whether they are a certifiable connoisseur or a budding novice, these wine-themed, Philly-available picks will have them toasting you during an upcoming not-so-silent night.
Philly Streets Wine Tote, $18, www.weheartphilly.com
If transporting a beloved bottle from state store to table top in the classic brown paper bag isn't classy enough for her, why not do a quick upgrade to this little number? Full of Philly pride without being as colorful as 2 Street, this classy carrier can easily do double duty during CVS and DiBruno Bros. runs.
Soiree Decanter, $29.95, www.pinotboutique.com
Our favorite wine accessory palace has umpteen great picks, but we love this unexpected tool. Pop it on top of any bottle of wine and it will aerate and intensify the flavors. Perfect for both the wine snob and the hourly wager who will do anything to make Red Truck taste better.
Copco Wine Stopper Set, $30, www.openhouseliving.com
Not everyone opens a bottle with the intention of finishing it right then and there (shocker, right?). Gift the sipper in your life with this modern set of chrome-plated stoppers and they'll be able to keep their dregs fresher, longer. Once they upgrade to a bottle a night, the stoppers can rest in their funky green holder, creating instant kitchen art.
Wine Tasting Coasters, $10, www.bobsyouruncle.com
Got a budding sommelier on your hands, with the loquacious analysis of every wine in the room to prove it? Poke a little fun with these hip and handy paper coasters, each featuring an over-the-top take on a tasting note. Or throw a stack on the bar at your holiday soiree and watch the closet critics break lose.
The WineStein, $22.50, www.shopphag.com
Real men drink beer, or so I have been told. Help a brother out by embracing his love of wine and giving him an upgrade in masculinity with this beer mug-shaped wine glass. The best of both worlds, he'll finally be able to do rounds at the company Christmas party with his dignity semi-intact. Unless, of course, he fills it with White Zinfandel. We can't help you there.
12.19.10
---
Melissa Auman Greiner is a born and bred Philly girl with a soft spot for the city's growing food and wine scenes, leafy green squares and sultry summers. Just don't get her started on the inadequacy of SEPTA. With nearly 10 years of experience covering the city for a variety of newspapers, magazines and websites, it hasn't just been her pleasure to visit Philly's best bars and restaurants -- it's been her job. And with an advanced certification from the International Sommelier Guild under her belt, she brings her city savvy and wine know-how together to deliver Drink Philly readers the latest info on Philly vino.
---
Recent Articles

Feedback
How are we doing? Tell us what you like or don't like and how we can improve. We would love to hear your thoughts!