Holiday Wine Pairings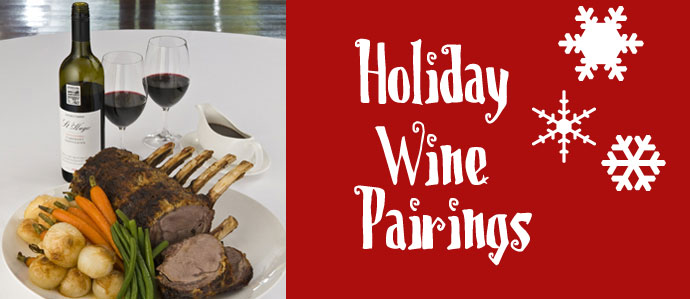 While turkey was the go-to food of Thanksgiving, the menus for the December holidays are a little more varied. Between your roomie's latkes, mom's annual Christmas standing rib roast and the buffalo chicken dip you are concocting for the big New Year's Eve party, what to drink gets a little more tricky. Feel free to simply grab whatever's open in the fridge, but if you'd prefer a cheat sheet this month, check out some of the more classic combos below.
Food: Potato Latkes
Wine: Sauvignon blanc
Why: Fried and, in turn, greasy, these rich treats need something to cut all that oil. The high acid in sauvignon blanc, especially New World versions like those from Marlbourough, New Zealand, can stand up to the fat.
Food: Spiral Ham
Wine: Sparkling or Champagne
Why: With its brown sugar crust, sweet ham would drown in a tannic wine, and the wine would probably taste flat. The touch of sugar in sparkling wines allows both flavors to come through. And it's just fun to uncork the bottle.
Food: Roast Beef
Wine: Cabernet sauvignon
Why: Bold yet bright, the light fruit and hint of smoke in a cab make perfect playmates for everything from ribs to steaks. But beef plays well with reds in general, so feel free to try out a big California blend or a more soft Bordeaux.
Food: Fish
Wine: Unoaked chardonnay
Why: Italian families sitting down to a Seven Fishes feast have a lot of flavors on the table. While you could go grand and pair the sardines with one wine and the clams with another, unoaked chardonnay, such as a Sancerre, can stand up to most of the ocean without imparting any metallic flavors.
Food: Spicy party snacks
Wine: Riesling
Why: In the wine world, often it's true that opposites attract. Acidic and a tad sweet, Riesling plays off the heat and is flavorful enough to compete with the strong tastes of chili or cayenne.

12.09.10
---
Melissa Auman Greiner is a born and bred Philly girl with a soft spot for the city's growing food and wine scenes, leafy green squares and sultry summers. Just don't get her started on the inadequacy of SEPTA. With nearly 10 years of experience covering the city for a variety of newspapers, magazines and websites, it hasn't just been her pleasure to visit Philly's best bars and restaurants -- it's been her job. And with an advanced certification from the International Sommelier Guild under her belt, she brings her city savvy and wine know-how together to deliver Drink Philly readers the latest info on Philly vino.
---
Recent Articles

Feedback
How are we doing? Tell us what you like or don't like and how we can improve. We would love to hear your thoughts!