The Best & Worst Holiday Drinks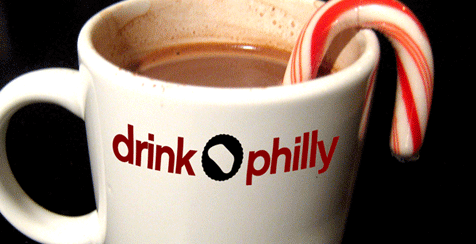 Well folks, it's that time, and we here at Drink Philly think that we should share some of our Winter Wonderment with some of our favorite, and least favorite holiday-themed drinks.
Throw open that liquor cabinet, and make something' extra special for your loved ones.
You're welcome.
Love,
Drink Philly
Kam's Drink Picks:
BEST:
The Corner Store
Created by Preston Eckman of APO Bar & Lounge in Philadelphia
2 oz. Beefeater 24
1 oz. Black and brown syrup*
0.5 oz. Fresh orange juice
2 Springs of thyme
1 Black mission fig
Muddle 2 sprigs worth of thyme leaves and 1 black mission fig then add 2oz. Beefeater 24. Shake ingredients heavily and double strain over ice in an old fashioned glass. Garnish with a smacked thyme sprig stuck in half a fig set on the rim of the glass
*to make the syrup:
Combine 2 cups water and 5 crushed cinnamon sticks and bring to boil for 10 min. Let steep for 10 more min and strain off cinnamon. Add .75 cup of white sugar and stir until dissolved. Then steep 12 black tea bags for 20 minutes. Cool and use.
WORST:
Ebenezer's Elixer
1oz Peppermint Schnapps
1oz Sweet Vermouth
1oz Triple Sec
1oz Canned Cranberry Sauce (not juice)
1oz Premixed day-old Eggnog (2 parts Nog, 1 part Bourbon)
1oz Bailey's
The worst holiday drink I can think up is an original of mine that may have been the worst idea ever. Back when I was still doing my undergraduate degree and I was living with two other guys, I came home late one night after a night class and really needed a drink. We had just thrown a christmas-themed cocktail party, but unfortunately most of the liquor had been finished off so I was left with a few choice ingredients. This is the result, I like to call it "Ebenezer's Elixer."
Combine ingredients in a martini shaker with ice, shake until your hands freeze, and pour entire mixture with the ice into a pint glass.
This is probably the worst thing I've ever made and I can still taste it a little bit as I recall the process. The measurements are approximate, since I was basically just pouring what little was left in the bottles together. Please do not make or serve this drink unless you are serving your arch-nemesis and you have an escape route!
Justin's Drink Picks
BEST:
Gingerbread Martini
1.5 oz Citrus vodka (I use my own infusions, shoot for Absolut if not available)
1.5 oz. Hiram Walker Gingerbread liqueur
0.5 oz. Dry vermouth
0.25oz Simple syrup
Lime wedge
Sometimes, you get a hankering for Gingerbread. However, you don't always want to eat the Gingerbread.
This is a great compromise.
I found this recipe online (though I cannot recall the source), and it's quickly earned a happy spot on my shelf.
Rub lime wedge on rim of frozen cocktail glass. Shake citrus vodka, Hiram Walker, dry vermouth and simple syrup. Double-strain into glass.
If you want a little more "spice" in your cocktail, add 0.5oz of cinnamon schnapps. Goldschlager is preferred, if you don't mind gold chunklets in your drink.
WORST:
Ed & Miguel Shooter
1.5 oz. Triple Sec
0.5oz Frank's Hot Sauce
This winter, you should cuddle up to your loved one, hold him/her/it real tight, and sit by the hearth with this glamorous and colorful shot.
The Ed & Miguel Shooter is perhaps the most accessible, and delicious drink you will ever encounter in your life. The smooth combination of Frank's Hot Sauce and Triple Sec pave the way for what will undoubtedly be the most romantic night of your life. Give one to your Grandma. She'll love it.
For the shooter, pour the Frank's in the base of the glass. Carefully layer chilled triple sec atop. Shoot.
For a delicious icy treat, pour Frank's over crushed ice. Add Triple Sec. Sip slowly and with wonder.
Adam's Drink Picks
BEST:
Hot Cocoa
2 tbsp Sugar
2 tbsp Cocoa
Dash of salt
1 Cup milk
1/4 tsp Vanilla extract
1 oz. Light Rum
Mix dry ingredients in a mug. Heat milk, then add to cocoa mixture. Stir well and add vanilla. Add Rum.
My girlfriend makes this every year and it is one of the best hot chocolate recipes I've ever had. It's simply Hershey's hot chocolate recipe with some rum. Delicious.
WORST:
Sleigh Wreck
?? oz Jack Daniels Whiskey
?? oz Disaronno Amaretto
?? oz Milk
?? oz ?????????
I made this holiday gem for some friends at a Christmas party a few years ago. I was more intoxicated than a shopping mall Santa, and I made this horrible concoction out of whatever liquor we had left in the cabinet. I don't recall what the portions were and I don't really think it makes a difference. Wash it down with some drain cleaner to get the bad taste out of your mouth.
Recent Articles

Feedback
How are we doing? Tell us what you like or don't like and how we can improve. We would love to hear your thoughts!