Boston Brewing Company's Jim Koch Announces Samuel Adams LongShot Homebrew Contest Winners and Nitro Brews Coming Soon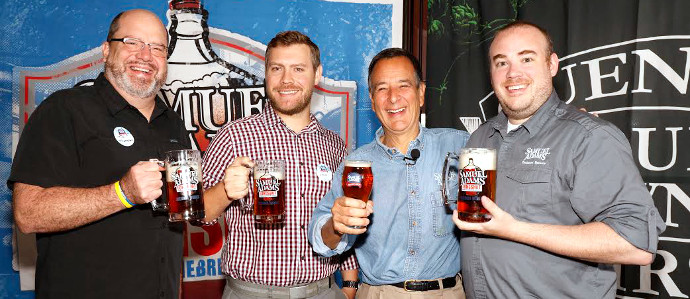 What better setting than Denver's Great American Beer Festival to announce the winners of a national homebrewing competition. That is exactly what Boston Beer Company founder Jim Koch did at a special beer brunch at Marlowe's on the16th Street Mall during GABF weekend.
After countless hours of tasting and sampling, the following three people were named winners and will have their beers featured in a special six pack in 2016: Tim Thomassen of Lincoln, NE, Kevin Nanzer of Mountain View, CA and employee winner, Colin Foy of Cincinnati, OH.
"There's no better time than now to be an American craft brewer or homebrewer," says Koch. "This year's LongShot American Homebrew Contest winners serve as shining examples of that passion and American homebrewing ingenuity. The first batch of Boston Lager I ever brewed was at home in my kitchen in 1984. Since then, I've seen the community grow exponentially. What's remained constant over the years is the passion for beer and the commitment to experimentation in brewing."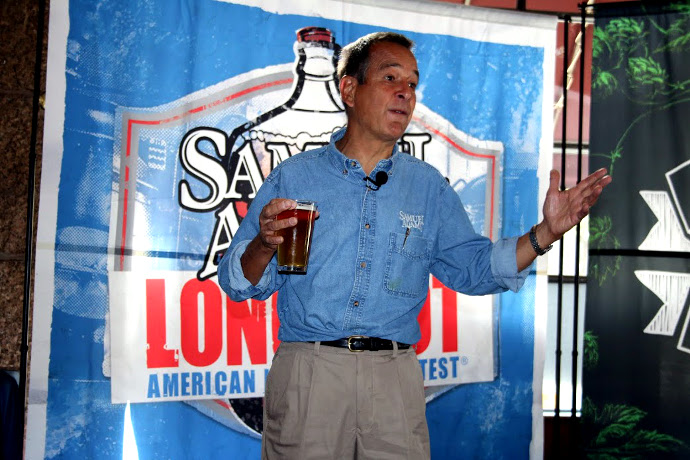 Thomssen brewed a pink frothy Raspberry Berliner Weisse with a balance of tartness and sweetness. Nanzer brewed a Belgian Golden Strong Ale with the aroma of pepper, clove, and fruits balanced with subtle malt and bitterness and an ABV of 9%. Samuel Adams' employee Foy created a Flanders Red Ale that was brewed traditionally by blending a "younger" beer with a "mature" beer that had been aging in wood for several months.
Thomssen and Nanzer were selected as winners after being judged in several categories including aroma, appearance, flavor, and mouthfeel according to the style category under which the beer was submitted. Eight semi-finalists were selected during the first round of judging in three regional locations in New England, California and Illinois. The final winners were selected by a panel of industry judges including Jim Koch, Bob Townsend of the Atlanta Journal-Constitution, Tony Forder of Ale Street News, John Holl of All About Beer Magazine, Jason Alstrom of Beer Advocate, Don Russell of Philadelphia Daily News, and beer writers Jay Brooks and Lisa Morrison. Employee winner Foy was selected by votes from visiting tasters to the Boston Brewery.
The winning brews will be available nationwide in a special variety pack that will include two bottles of each beer. Look for the pack in retail stores in 2016. Previous winners of the LongShot contest have gone on to start their own breweries including 2013 Cesar Marron of Evanston, IL.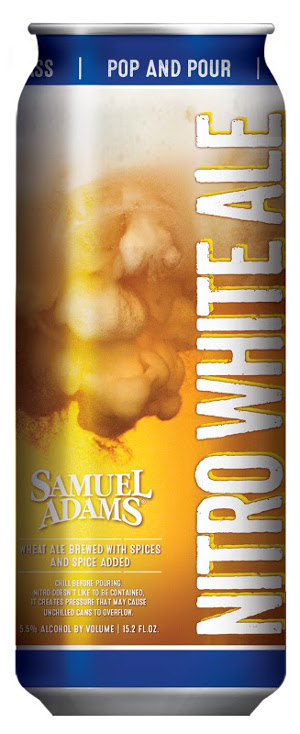 Along with the LongShot winners, Koch also announced Samuel Adams' new beers for 2016. The brewery will liven up their new beers by putting them on Nitro.
"It is an exploration of a relatively unexplored part of the brewer's art," says Koch. "What we're looking at with this beer is a hidden ingredient. The one ingredient, which has a profound impact on the taste of the beer, but we don't even think about it, is carbonation. Carbonation is a fundamental part of the normal beer experience. It increases the acidity of the beer, it creates that tongue sting and that sharpness. Think about the difference between water and seltzer water. They're very different beverages, but the only difference is carbonation."
For these new beers, Koch is taking the carbonation out and replacing it with nitrogenation. The brewery has even invested in new equipment at its Pennsylvania facility to produce nitro beers in cans. The cans will contain a special widget with a cylinder of nitrogen. Opening the can will activate the nitro charge and the beer should be poured in a glass immediately after opening. Draft beers will be served through a nitro faucet. Koch says this has been a two-year project for the brewery.
"You're all familiar with the theatricality that you get from a nitrogenated beer," he says. "You get these tiny bubbles moving downward. It's weird because bubbles are suppose to the float to the surface, but because of some strange physics of convection, nitrogenated beer bubbles that are visible float downward and then float up in the middle creating that wonderful cascading experience."
The Nitro White Ale has a billowing white head that cascades into gold. The taste is velvety smooth with a light wheat character and hints of orange with a peppery spice finish. The Nitro IPA is boldly bitter, yet smooth with the addition of nitro. The taste is resinous pine and citrus. The Nitro Coffee Stout is a jet black brew with a rich, robust flavor. Dark roasted malts create touches of bittersweet chocolate and dark fruit while the coffee adds a certain toastiness. These special nitro beers will be available in cans year round starting in February 2016 and the Nitro White Ale will be available on draft year around in January.
Top photo and can image via Boston Beer Company; Jim Koch photo by Carrie Dow
Tags:
Beer
Recent Articles

Feedback
How are we doing? Tell us what you like or don't like and how we can improve. We would love to hear your thoughts!