Nobody Wants to Drink Michelob Ultra, Not Even the People in a Michelob Ultra Ad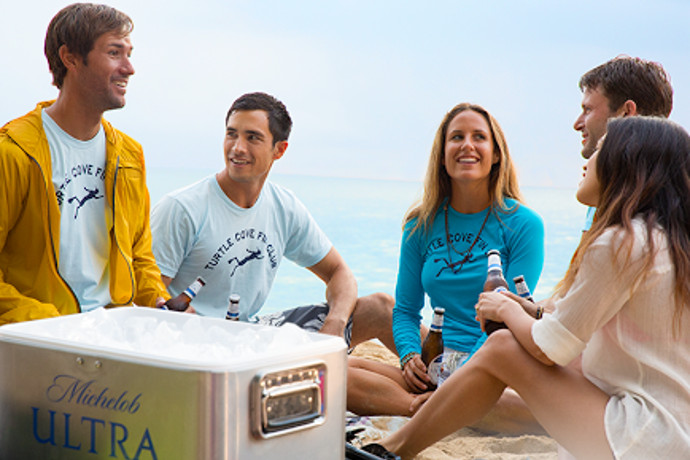 We've all been there: you're hanging out at the beach with some buds—apparently just after a softball game or some other lame reason for you to all be wearing the same t-shirt—and you want to crack open some frosty beers to celebrate the fact that you're all young, moderately good-looking and on a beach. And then, the worst: you realize the idiot you put in charge of bringing beer brought Michelob Ultra. So, exasperated, no one opens their beer.
You can see in the photo that no one is enthused except the jerk who brought the crappy beer. The offender, on the far left in the yellow jacket, is one of those friends who knows you're into beer but doesn't know anything about it himself, so he brings what he thinks is good and gets excited for you to try it. Look how excited he is! He even went all out and bought the branded Michelob cooler. The guy to his right is looking at him in pure disbelief. The lady in the middle is also upset by the unopened beer in her hand. She's looking at her boyfriend with a fake smile, as if to say, "Oh, great. Michelob Ultra. I can't believe you invited this guy."
The moral of the advertisement, despite it clearly being paid for by Michelob Ultra, is to not bring Michelob Ultra with you when you go anywhere. Your friends will hate you, you will be ostracized, and no one will even open the beer. Don't let that happen to you—spend a few extra bucks and bring some real beer to the party.
Photo via Michelob Ultra
Tags:
Beer
Recent Articles

Feedback
How are we doing? Tell us what you like or don't like and how we can improve. We would love to hear your thoughts!