Study: Beer Will Make You Smarter, But You'll Need to Drink A Lot of It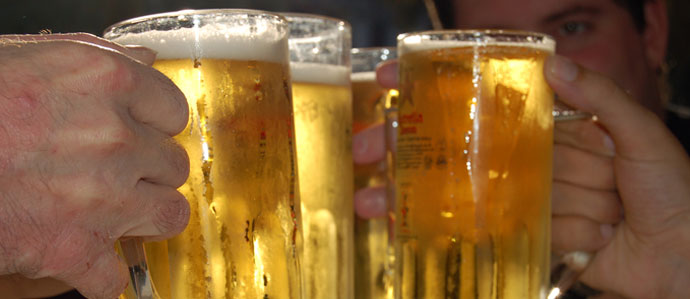 Just as many of us have suspected all along, researchers this week confirmed that sweet, glorious beer has the miraculous ability to make you smarter.
Now this isn't the wobbly jabber from the mouth of some half-shot-in-the-ass rummy parked at the end of the bar all night. This is real science-y, fact-based stuff that's been proven with experiments in labs with mice and scientists.
Researchers at Oregon State University's College of Veterinary Medicine discovered that xanthohumol, a flavinoid found in beer's bittering agent, hops, improved cognitive function in mice. Scientists determined that mice given large doses of the compound showed "higher level thinking" and dramatically improved spatial memory when run through a special maze.
But before you go cracking a can of Heady Topper and start considering going back to grad school, know that the study also determined that only the young mice that were dosed showed signs of improved brain function. Mice of legal drinking age continued to remain as dopey as Slowpoke Rodriguez.
And if you thought that pouring some Plinys at home for the kids will ensure their acceptance at an Ivy League college, think again. According to CBS Seattle, they would need to chug as much as 2000 liters of beer a day to consume the same levels of xanthohumol used on the mice in the experiments.
Photo via Flickr
Tags:
Beer
,
Education
Recent Articles

Feedback
How are we doing? Tell us what you like or don't like and how we can improve. We would love to hear your thoughts!