Turn Any Kegerator Into A Caskerator With This New Kit
Cask beer for all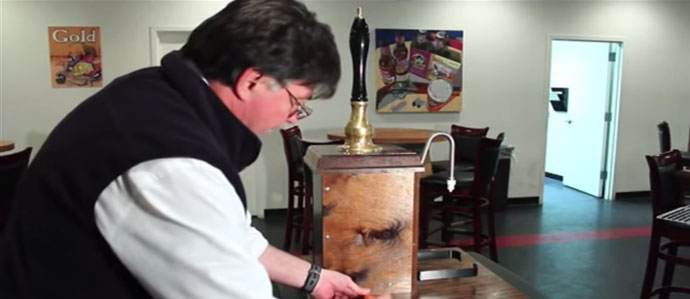 Fans of cask beer, get ready to rejoice. This original method of serving draft beer, that can sometimes present challenges, has just been made easily accessible for bars and ambitious homebrewers alike.
Long time brewer Hugh Sisson of Heavy Seas Beer has paired with crafty Paul Pendyck of UK Brewing to develop the Caskerator. Cask beer often faces the risk of not being served or stored at the right temperature and spoiling if not served quickly enough. This kit, which converts a standard kegerator, "solves all of the problems for retailers," says Sisson.
The caskerator is intended to preserve the delicate nature of cask beer. Served unfiltered, cask beer is naturally conditioned (or carbonated). The brew is then pumped from where it is stored using a "beer engine," instead of carbon dioxide, to serve the beer in a way that ensures that it will be at the right temperature. An extension of beer life for longer than three days results in very little waste or spoilage.
According to the UK Brewing website, the kit is easy to install and includes every piece necessary for successful installment. With a cost of $936.85 before shipping, the upfront investment may seem high, but we cask conditioned beer fans at The Drink Nation think any bar willing to offer this is going to have a crew of cask beer fans lined up for something that isn't typically found at just any corner bars. And if you're a sophisticated homebrewer? We're pretty sure your friends will be pretty impressed at your next party. In fact, we'd love an invitation, too.
Photo via Youtube
Tags:
Beer
Recent Articles

Feedback
How are we doing? Tell us what you like or don't like and how we can improve. We would love to hear your thoughts!