Green Flash Brewing's West Coast IPA Makes Historic Atlantic Crossing
An American IPA in Belgium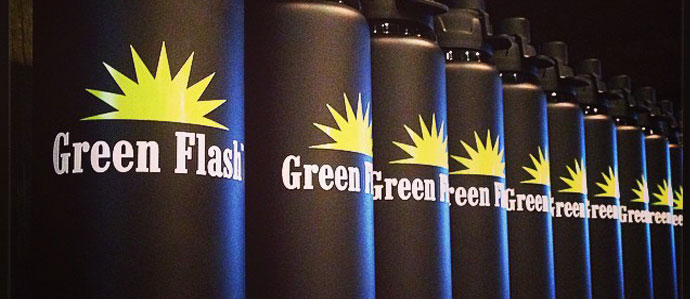 Green Flash Brewing Co. in San Diego, CA, just announced it has begun a brewing partnership with St.-Feuillien in Belgium to brew, bottle and distribute fresh IPA in Europe. The company's flagship beer, West Coast IPA will be the first to be brewed, bottled and kegged for the European retail market beginning August 1.
Green Flash Co-Founders, Mike and Lisa Hinkley, along with Dominique Friart, CEO of Brewery St-Feuillien, made the announcement after a year of planning and a hand-shake agreement. This historic Belgian brewery will brew, bottle and handle broad distribution throughout Europe. Distribution will include countries like Austria, Belgium, Denmark, France, Finland, Germany, Italy, The Netherlands, Norway, Switzerland, and the UK.
"We've been pursuing European distribution of West Coast IPA for some time, however, the obvious challenges in delivering fresh IPA to the region have been a huge roadblock," says Mike Hinkley. "After testing various export scenarios on a small scale, it became apparent that the quality of our IPA when transported to Europe was not ideal and cost-prohibitive for consumers. We were not satisfied with the customer experience and felt we had to come up with a better solution."
"Last year, I turned to our friends at St-Feuillien and proposed that we work together in our efforts to get fresh West Coast IPA to market in Europe," Hinkley continues. "We are thrilled that Dominique and her team have agreed to allow Chuck (Chuck Silva, Green Flash Brewmaster) to physically brew West Coast IPA using the state-of-the-art equipment at their new facility in Le Roeulx, Belgium. I am proud that Green Flash is the first US brewery to both brew and deliver locally crafted, fresh American IPA to the European consumer."
Says Friart, "Because of the success of the IPA category in the US, European consumers are interested in further exploring the style as it represents a taste of America. I am very enthusiastic about this program and believe many Europeans – particularly in Scandinavia, Germany, England and Italy – are eager to try this trendy US beer style."
The Brewery St-Feuillien is located in the southern part of Belgium, and Brasserie St.-Feuillien was established in 1873 by Mrs. Stephanie Friart. Four generations later, the Friart family remains in charge of the facility and dedicated to keeping the brewing tradition of Belgian beer available worldwide. Green Flash and St-Feuillien have produced several successful collaboration beers over the years. The Brewery collaborated with Green Flash in 2010 to create the highly acclaimed Biere De L'Amitie (Friendship Brew), a Blond Belgian Strong Ale dry hopped with American Amarillo hops. The breweries collaborated again in 2013 with the Belgian Coast IPA on the 140th anniversary of St-Feuillien and at the grand opening of the new facility in Le Roeulx.
Photo via Green Flash
Tags:
Beer
Recent Articles

Feedback
How are we doing? Tell us what you like or don't like and how we can improve. We would love to hear your thoughts!