Hey Gladiators, Here Are Olivia Pope's 'Scandal' Wine Glasses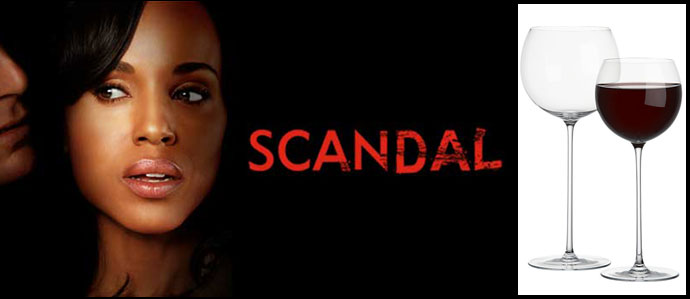 When Washington's elite wake up next to dead bodies or need help covering up their 25-year extra-marital affair, they call Olivia Pope. Olivia Pope's got her own set of problems, though. An obsessive, over-bearing father. 'Round-the-clock, black ops-level surveillance. An, ahem, high profile boyfriend with commitment issues. So, when her team of gladiators and friends in high places can't lend a hand, Pope turns to the International fail safe: a good bottle of vino.
Washington's most infamous "fixer" is a well-documented wine-o and fans of Scandal have been flooding Crate & Barrel with orders for a certain glassware set so they, too, wear the white hat, or whatever.
Crate & Barrel's 23 oz. red wine glass from the Camille Glasses Collection has been something of a hot commodity thanks—in part—to Olivia Pope's taste.
Handcrafted glass rises to the occasion on elongated slender stem with a bubble bowl that's perfect for cradling in hand to allow wines to open up and breathe.
According to ChicagoBusiness.com, the glasses are selling 20-times faster per week since Pope upped her wine intake for Season 2.
Ms. Pope, who mysteriously powers through 16-hour days in the capital fueled solely by coffee, popcorn and red wine, prefers to imbibe from elegant large-bowled glasses with elongated stems. As many "Scandal" obsessives already know, they're created by Northbrook-based Crate & Barrel. But they're almost as difficult to get as Ms. Pope's unfettered access to powerful people: The glasses have been back-ordered for about six weeks from purchase date since last spring.
"We are now selling more than 20 times the average weekly volume of the Camille Red Wine Glass (as) before it was prominently featured in the second season of 'Scandal,' " Crate's PR Director Vicki Lang confirms in an email.
As for the wine itself, Kerry Washington—who plays Pope on the show—has publicly stated that she's not a drinker, citing the "empty calories" as a deterrent. But, you might be able to spot a bottle or two of California Oak in her Scandal kitchen.
Tags:
Wine
Recent Articles

Feedback
How are we doing? Tell us what you like or don't like and how we can improve. We would love to hear your thoughts!