Beer Review: Manneken-Penn (Philly Beer Week 2013 Collaboration Beer)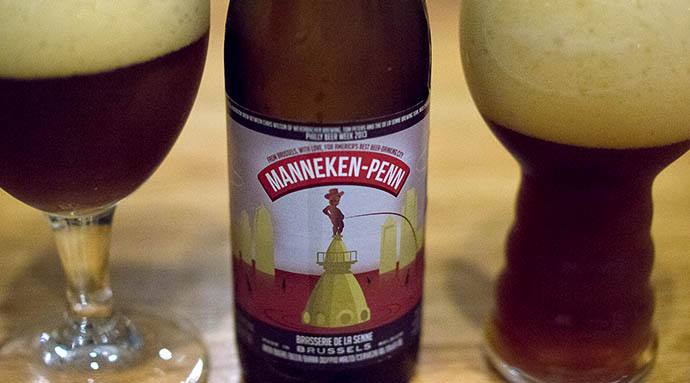 The official collaboration beer of Philly Beer Week will debut at Opening Tap on Friday, May 31, but we were able to get our hands on a preview bottle for a sneak peek, and the news is good. A friend was blunt about his opinion, "This beer is ill as f**k!" Put another way, Manneken-Penn drinks like a Belgian beer for IPA-lovers.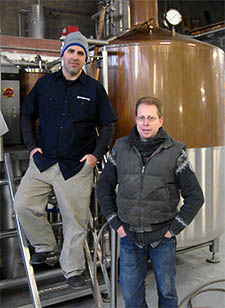 PBW raffle winner Matt Hohorst selected Weyerbacher as the 2013 participating brewery from this side of the Atlantic, so head brewer Chris Wilson accompanied Tom Peters of Monk's Cafe and the rest of the PBW crew to Belgium to make the special collaboration happen.

Before making the trip, Wilson had already begun discussing the beer via phone and email with Yvan De Baets, brewmaster at Brasserie de la Senne in Brussels. The idea was to create a beer that highlighted the best of both American and Belgian brewing, using ingredients from both sides of the pond. We're happy to report that the brewers were successful in their endeavor.

Manneken-Penn is described as a Belgo-American Dubbel. The beer was made with oats, molasses and a combination of hops: Calypso hops from the U.S. and Aurora and Styrian Goldings hops from Europe. Poured from an 11.2-oz. bottle, the head explodes into a profusion of fluffy, off-white bubbles, tight enough to have the creamy texture often associated with Belgian styles.

Combined with the deep amber color of the liquid, the appearance of the beer does not prepare you for it's hoppy punch. Weyerbacher is known for producing huge, robust flavored brews, and Brasserie de la Senne is known for making Belgians on the hoppier side, and this collaboration falls happily right in the middle of those points on the arc of style.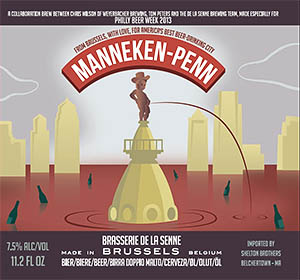 Sips start out rich, almost sweet, but then the hops take over, avoiding a "bready" aftertaste. Instead, the finish is surprisingly clean for a Belgian. Overall, the beer is much more crisp than it looks. Because of this, it pairs very well with food — we tried it with both a steak and a bowl of ice cream, to good effect.

Ringing in at 7.5% ABV, Manneken-Penn will be available throughout Philadelphia during Philly Beer Week in both bottles and on tap. Though the drafts will surely be good, the bottles are worth seeking out for their inimitable label — a mashup of the William Penn statue atop City Hall and the famous Manneken Pis statue in Brussels. Philadelphia may be drowning in beer for the next few weeks, but this one is tasty enough to keep you afloat.
Top photo by Danya Henninger; middle photo: Chris Wilson and Yvan De Baets by Jennie Hatton
Recent Articles

Feedback
How are we doing? Tell us what you like or don't like and how we can improve. We would love to hear your thoughts!