Beer Review: Sixpoint 3Beans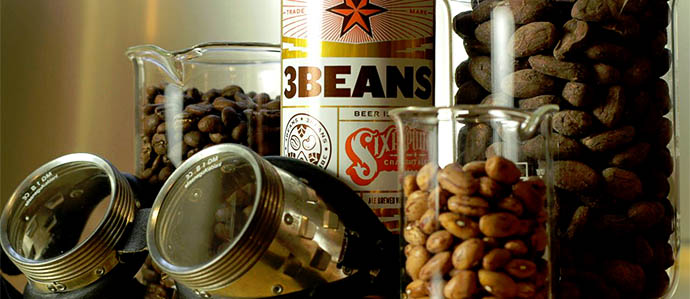 The latest limited release from Sixpoint (and the second 12-ounce "nanokeg" slim can from the Brooklyn-based brewery) is 3Beans, a collaboration with Mast Brothers Chocolate and Stumptown Coffee Roasters. The partnership is a who's who of small-batch producers, all of which — by virtue of both making great products and leveraging marketing skills — aren't so small anymore. All three have become household names in the artisan space, and this beer is a testament to each company's commitment to quality and willingness to take a risk in the name of creativity.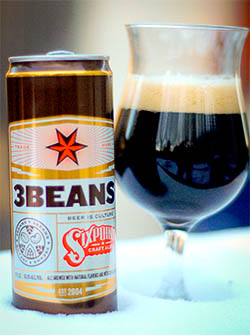 To make 3Beans, Sixpoint combines three types of beans, as might be expected from the name. Sprouted Roman beans (somewhat similar to kidney beans) have been added to the mash, a practice that was used historically by some ancient to supplement barley when supplies ran low. Mast Brothers provides the husks of cacao beans — left over when the inner nibs are shelled to make rich chocolate bars — and these are also added to the mash. Stumptown provides the third bean: after fermentation, the beer is blended with a specially cold-brewed coffee. The resulting liquid is aged on American oak

The result is a 10% ABV ale that pours like a porter in color and viscosity. Though we expected it to exit the can relatively syrupy, it was surprisingly dry and crisp, with a creamy head. There was a good amount of alcohol on the nose that mingled with very noticeable chocolate and coffee aromas.

Those subtle flavors were subsumed on first sip by the astringency from the cacao bean/hop combo and the high IBUs, which quickly replaced these aromas with a bitterness that lingered way past the finish. We did taste some black cherry esters, and the ale had a nutty malt profile, but the resinous hops remained front and center. This will likely mellow with age, but since the coffee and chocolate are spot-on in the beer's present state, it's a bit of a double-edged sword.

Still, since we were fortunate enough to get our hands on a whole case, we're going to let a few cans sit in the cellar for at least a year to see how the hops and the alcohol content respond to Father Time.
Bottom photo by Marcos Espinoza
Recent Articles

Feedback
How are we doing? Tell us what you like or don't like and how we can improve. We would love to hear your thoughts!